Thursday, November 18, 2004
DOLPHINS IN MY HOMETOWN
I've been wanting to use a design of maple leaves in the background, so here it is!! The real maple leaves are not turning red at all around here, and the autumn scenery is very disappointing this year.
-------

When I visited my parents last weekend, my mom and I went to see dolphins in a tiny fishing port in a nearby town. The dolphins are the ones that ran away when the last typhoon hit. It must have cost a lot to bring them back.

I didn't have my digital camera with me, so this is the best I could with the camera on my mobile phone.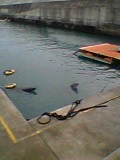 Can you see their heads sticking out of the water?????

I heard that they are there for some kind of research, but no one in the town seems to know what the research is about :P
posted by obachan, 11/18/2004 10:48:00 AM
---
0 Comments: