Sunday, August 08, 2004
PROGRESS!!
See?!! I changed the background of this blog!
It took me a loooooong time but I finally did it!!!
It was tough for me to figure out how to modify the template because I don't know much about HTML or CSS. But I really wanted to make my blog look unique and original, giving it a bit of Japanese touch. So I didn't want to give up!!
Now I found out how to do this, I'm going to change the background semi-periodically. You'll enjoy many different kinds of Japanese traditional designs. Just wait and see!
Another progress! I figured out how to upload photos I took with the camera on my cell phone. My first photo here is that of the fig cake I baked last Friday!!
figcake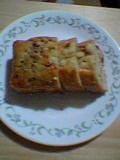 This weekend was very eventful. I have a lot to write about, but I'm just too tired now.
Good night!
posted by obachan, 8/08/2004 09:39:00 PM
---
0 Comments: